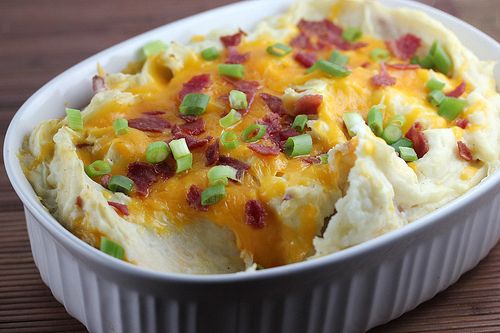 found this today and it's on my dinner list

Ingredients:
8 medium potatoes (about 2 ½ to 3 lbs total weight, peeled and cut into 1-inch chunks)
1 cup evaporated 2% milk
½ cup light sour cream
1 teaspoon salt
½ teaspoon ground black pepper
2 cups shredded cheddar cheese (divided)
6 slices turkey bacon (cooked until crispy and crumbled)
sliced green onions
Cooking Instructions: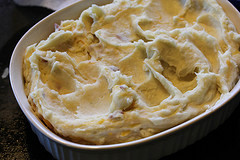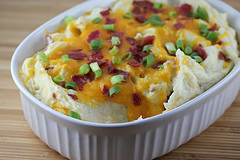 Step 1:
Place the potato chunks into a large saucepan. Fill with enough water to cover the potatoes. Bring to a boil. Cook over medium-high heat for 15 to 20 minutes or until tender. Drain.
Step 2:
Pre-heat the oven to 350 degrees. Grease a 2 ½-3 quart casserole dish. Return potatoes to the saucepan. Add evaporated milk, sour cream, salt and pepper. Beat with a hand held mixer until smooth. Stir in 1 ½ cups of cheddar cheese and half of the bacon. Spoon the potato mixture into prepared casserole dish.
Step 3:
Place into the oven and bake at 350 degrees for 20 to 25 minutes or until heated through. Top with remaining ½ cup of cheddar cheese, remaining turkey bacon, and green onions. Bake for an additional 3 minutes or until the cheese has melted.
(Makes 8 Servings)
get more great recipes