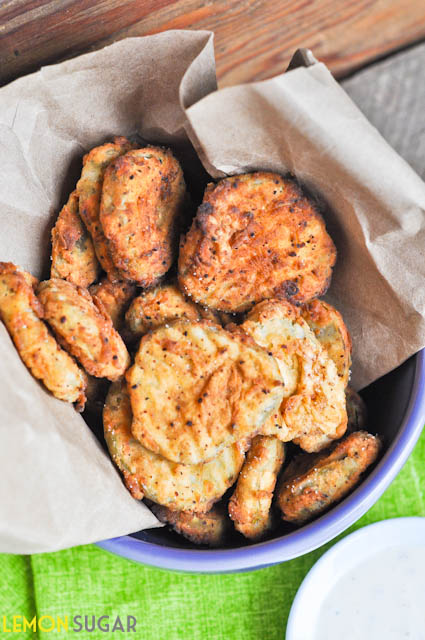 Fried Pickles with Spicy Ranch
The ultimate guilty pleasure, fried pickles dipped in cool ranch dressing are different, fun and tasty!
Ingredients
Pickles:

1 small jar organic, thick-sliced dill pickles (hamburger slices)
1 cup flour
1/4 teaspoon paprika
1/4 teaspoon garlic powder
1/2 teaspoon pepper
1 egg
1/3 cup milk
1 teaspoon Worcestershire sauce
1 teaspoon hot sauce
1/2 teaspoon salt

Spicy Ranch:

1/3 cup Ranch dressing (use your favorite brand or make your own
1-2 teaspoons hot sauce
Instructions
In a heavy-bottomed pan, heat 1-inch of vegetable oil over medium heat. Heat oil to 365 degrees, or until a bread crumb dropped into oil floats to the top and sizzles.
Meanwhile, in a flat bowl, combine flour, paprika, garlic powder and pepper. Whisk to combine and set aside.
Then, in another flat bowl, whisk together egg, Worcestershire, hot sauce, milk and salt. Set aside.
Place a layer of paper towels on a plate, and lay pickles in a flat layer. Dab the moisture off the top of the pickles with another paper towel.
Prepare a dipping station. Line up your pickles, flour, egg mixture and another clean plate.
Dip a pickle into the flour,and flip it over several times to coat.
Dip the pickle into the egg wash quickly, just to moisten the flour.
Then, dip the pickle back into the flour, and flip several times to coat well with flour.
Lay dipped pickle on to the clean plate, and repeat with all pickles.
Move your dipped pickles over to the stove top. Prepare a draining station next to your stove by lining a plate with paper towels, or using a wire rack over a baking sheet (lined with paper towels.)
Open your windows and turn your vent fan on to avoid a stinky, post-pickle house. :)
Using tongs or a spider spoon, carefully place a few pickles into the hot oil. Don't overcrowd your pan, it will drop the temperature of your oil and you'll end up with soggy pickles!
Fry pickles until golden brown, then remove from oil and allow to drain on your draining station.
To prepare Spicy Ranch dressing, simply combine ranch dressing with hot sauce until desired heat is reached.
Eat pickles warm, and enjoy!